Today, the automation of  production is an indispensable part of all manufacturing companies. The use of production technologies in the form of robotic workplaces that overcome outdated and uneconomical procedures for material handling and its transformation into a desired product brings higher performance, speed, accuracy and lower production costs. We can tailor-make the most suitable solution for the robotic workplace and integrate industrial robots into it, which will ensure the operation of production machines and partial production. We can either design robotic cells as separate local workplaces or integrate them into existing production process. These can then only be supplemented by related technologies in the form of conveyors or bins. Thanks to the use of existing technology, we can significantly reduce the acquisition costs that are common in the transition from manual to robotic production. According to your requirements, we can supply the entire workplace, including the machine part, electronic part and software. All testing, warranty and post-warranty servicing and testing of our solution is a matter of course.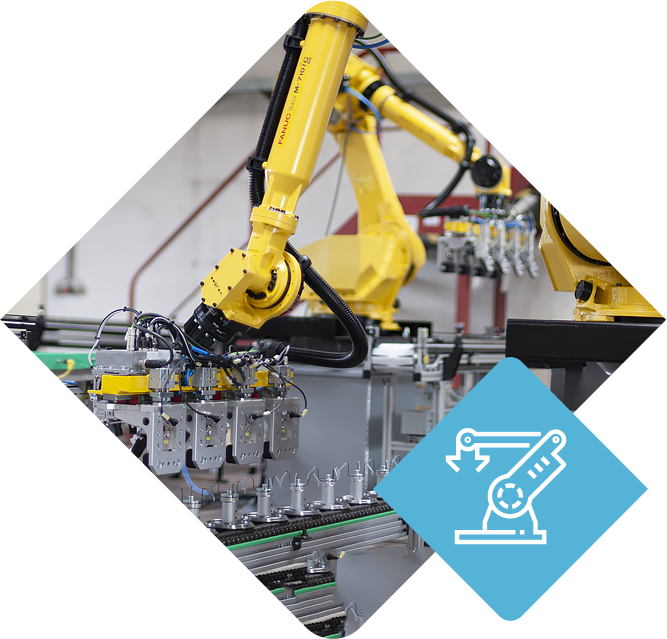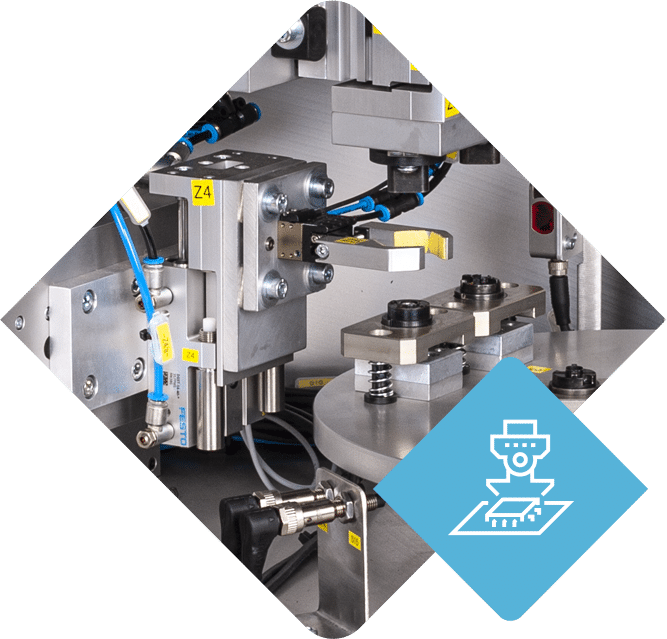 Every year we produce dozens of single-purpose devices, which we design and construct so that they fully meet our customer's requirements for their lines. The development orders that we solve on a turnkey basis for our clients include any type of single-purpose machines or equipment. We are always looking for simple, economically advantageous and fully satisfactory solutions that guarantee high production efficiency in any industry. We can integrate these devices into the production processes set by you, thus reducing their initial financial demands.
Vision systems


and bin picking
Robotics and machine vision have been experiencing dramatic development in the last few years. It is not possible to achieve full production automation without these technologies. We provide complete solutions for product quality inspection. The inspections have become an indispensable part of most production lines.  Given the increasing demand for better quality of individual components it is no longer possible to control everything with only the help of operators, additional technology needs to be involved. Inspections can be either built into the machines themselves, or added within camera systems.   You thus can minimize the number of defective components, check their completeness, deformation or number, and also detect surface defects or measure tolerance of production dimensions in real time. The big advantage of the machine vision is the objectivity, speed and accuracy of measurement.
The Bin Picking application, which in translation means picking non-oriented parts in a 3D space, is becoming a preferred solution for many of our customers who have the necessity to sort products. We also offer integration into existing production to make your entry position on production lines easier.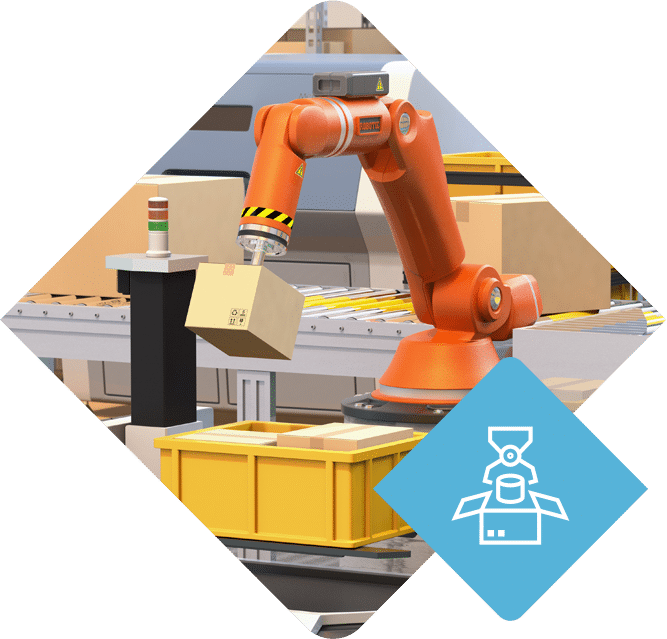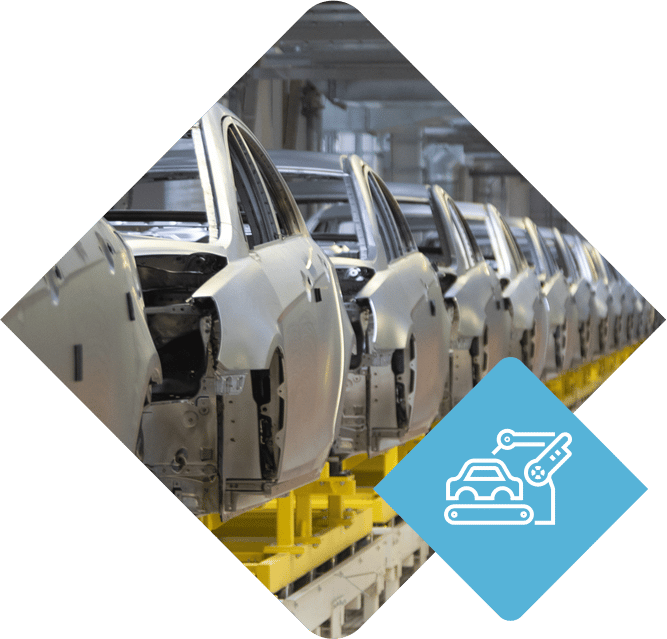 We design and assemble bespoke assembly lines in accordance with the requirements of our clients.We always take into account not only the spatial parameters, but also the line performance requirements. Semi-automated or fully automated lines are no exception. We also offer the interconnection of individual assembly lines using robots or conveyors and their organization within the process, with regard to the needs of individual workplaces. Each of the designed lines is complemented by the necessary control panels for easy operation. It includes the inspection of products and individual operations using testers. Before the installation itself, we ensure sufficient testing and tuning of the line.
Testers
We develop, manufacture and procure single-purpose automatic and semi-automatic test equipment, which is always tailored to the special requirements of our clients according to their specifications.  We can thus simplify and automate assembly operations such as pressing, screwing, insertion, mounting, etc. We individually design each device according to function and the specific product. The advantage of these machines is the ability to provide and maintain high product quality standards and also facilitate final inspections, whilst saving all data collated alongside product information to your superior system. We have experience with testing surfaces as well as electrical and mechanical functions. All our production solutions are subject to safety standards in the Czech Republic or destination country.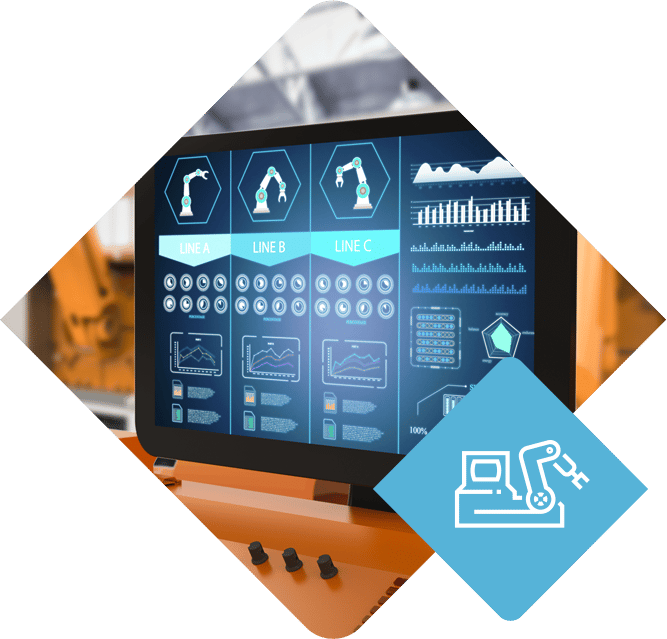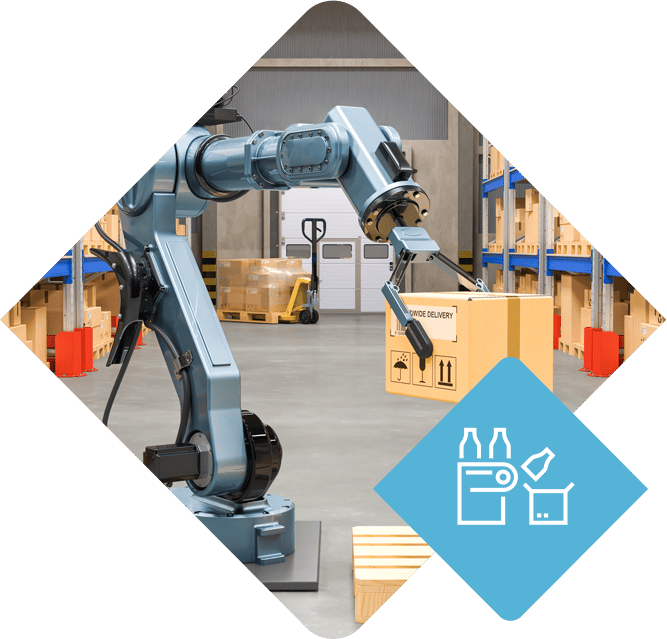 Palletization
In today's world palletization is an integral part of increasing production line output.
Our company offers a complete solution using palletizing and handling robots that are designed to maximize performance and shorten the cycle time as much as possible. Our solution can fully replace manual labour whilst maintaining the highest hygiene standards and increasing production capacity. Adaptable software does not require repetitive programming. In addition, robots can easily handle heavy material meaning there is no issue with handling significant loads. Palletization reduces the demands on storage space, save human resources and increase the speed and accuracy of operations. Furthermore, robots are able to operate multiple lines at once. Products to be palletized are usually transported on conveyor belts. Goods are then stacked by an industrial robot, which is designed specifically for the product to be palletized. We not only supply the robot, but also procure all necessary elements such as conveyors or buffer for pallets, i.e. we will implement the entire workplace on a turnkey basis with a warranty and post-warranty service.