As part of an excellent partnership with GALATEK, focused on surface treatment (degreasing, cleaning, painting of parts, etc.), we have many years of experience with implementations in this field, where we have already jointly carried out dozens of projects succesfully.
We offer comprehensive services in the implementation of the work from the electrical design itself to the process management of technologies and associated processes centralized in superstructure and logistics systems.
Our goal is to centralize management, and thus provide a single environment for the operator, from which he/she will be able to control the technology entirely.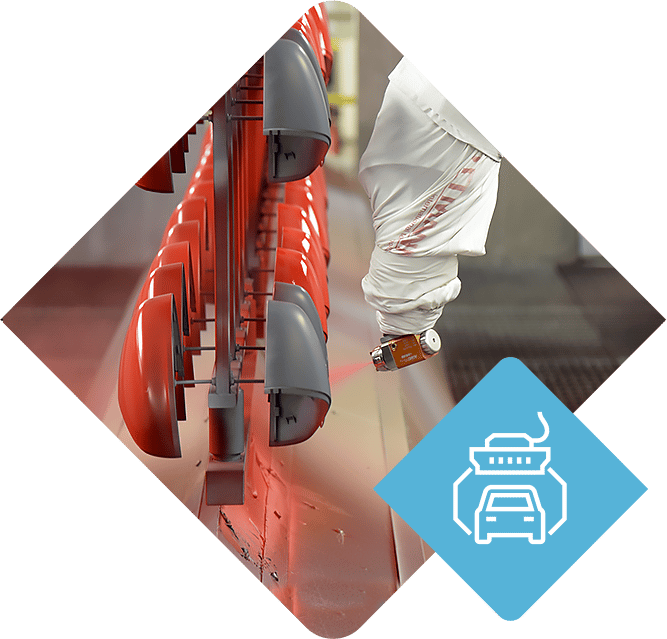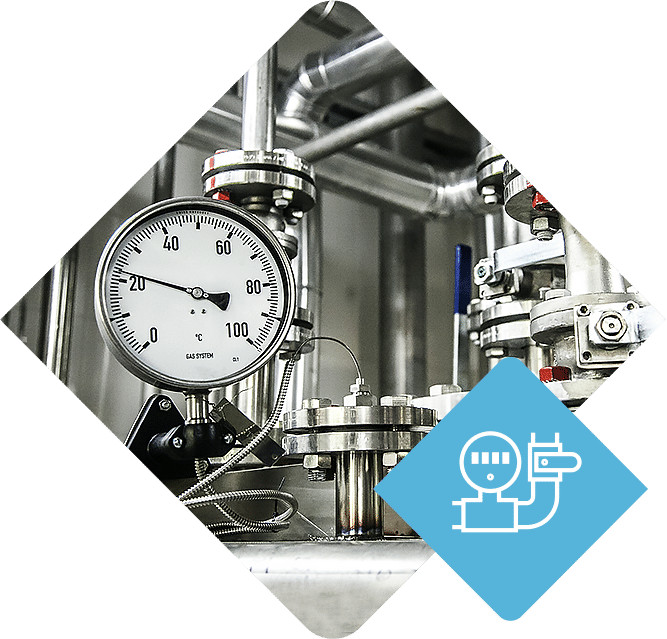 Comprehensive services in the field of measurement and control are our domain, which we deploy in a large number of industries with various technological processes. We design a tailor-made solution for each customer in order to manage the process and optimize operating costs. Thanks to many years of experience, we guarantee the reliability and quality of the designed systems.
Most often, we integrate the system with a focus on water treatment and transport, air treatment in air handling units in order to regulate temperature, humidity, air flow and other control variables that the technological process or technology requires. During the implementation, we also solve the measurement and control of pressure, steam, electricity, etc.
For you, energy monitoring can mean better availability of important information about the company's operations or technology, which can be reflected in a more accurate cost calculation.
In the technology industry, we focus on the consumption of electricity, water, steam and gas. Based on the measurement of these basic quantities, we are able to process and evaluate the measured data according to international standards. We use, for example, the standards AGA NX19, AGA 8 and IAPWSIF97 to standardize the measured quantities.
At the same time, these applications are suitable in the water management industry, where we deal with the measurement of HVAC technical and safety data, which include, for example, leaks and water levels.
Thanks to the data obtained from monitoring, we can balance and design new solutions at the customer's request, thanks to which we minimize energy consumption costs and optimize the overall operation.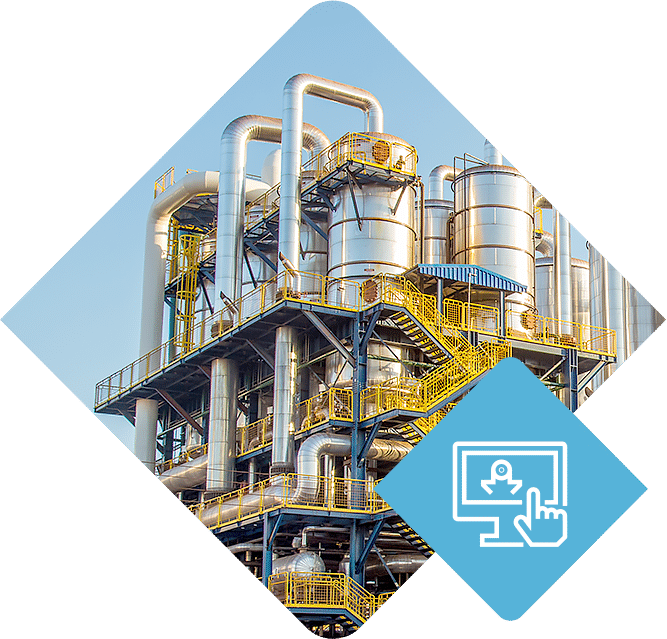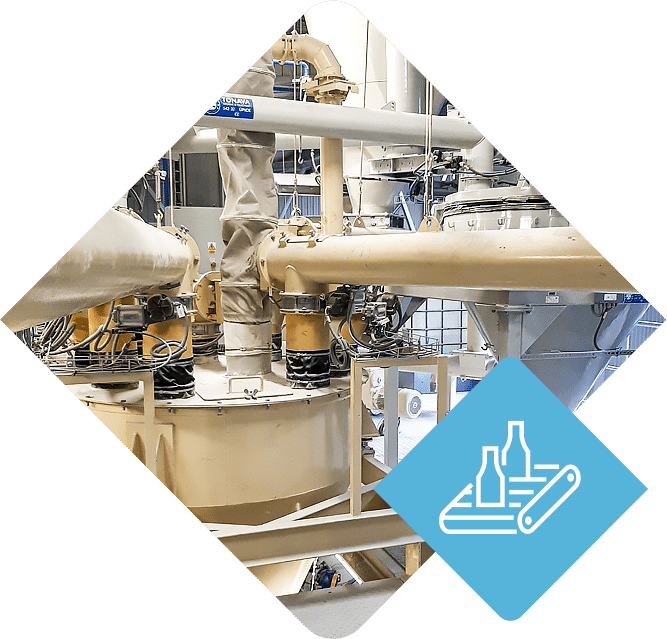 Thanks to many years of experience in material conveying, weighing, dosing, filling and other activities with either bulk or liquid components, we are able to design a comprehensive process control, including SCADA visualization. Using a recipe system, we are able to ensure the appropriate quality of the production process and the final product. In addition, because customers often operate in the Online production mode, we connect line control systems with superstructure systems and thus provide better production operations. In this way, we can provide you with a more efficient production process and comprehensive data processing and evaluation.
Furthermore, we are able to design and integrate associated workplaces, such as filling, marking, check weighing, handling of final products and palletizing.
Today, no larger technology can do without a central control system.
When designing and implementing our solutions, we therefore pay attention to centralization of control processes under the main PLC control system and data visualization in SCADA systems. In order to provide the most effective control architecture we prefer components and autonomous devices equipped with sufficient communication interfaces, thanks to which we are subsequently able to better control and monitor the production process. In response to today's Industry 4.0 principal we provide archived production data for data audits, product traceability monitoring and evaluation of management KPIs.
Control and monitoring data are displayed in SCADA visualizations of operator workplaces and control rooms. Central management is very often connected with business and logistics systems for production input and at the same time for data collection from technologies into superstructure MES systems, which we also have in the portfolio of products offered.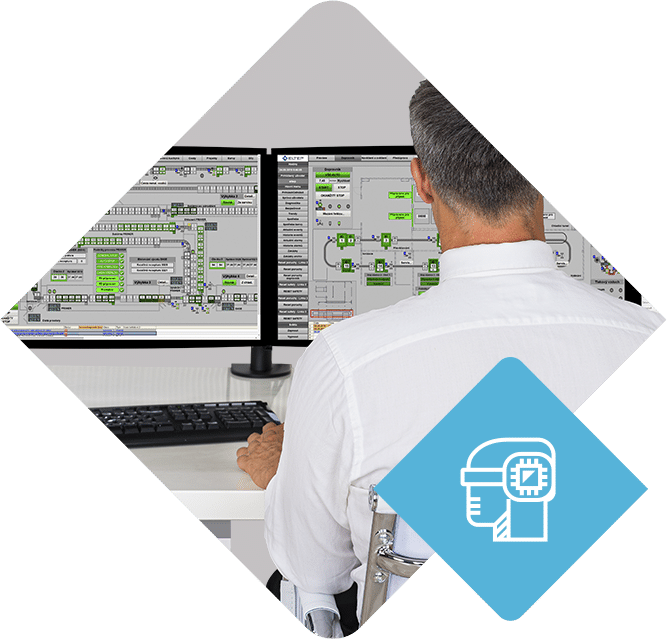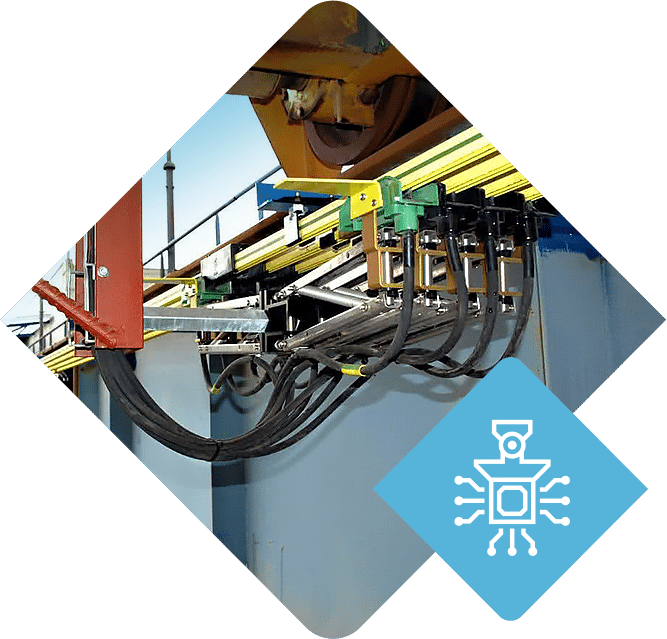 Bus system as a possible replacement for conventional cables.
Our company brings comprehensive engineering and assembly activity related to applications of all types of mobile Conductix-Wampfler power supply systems.
After a previous consultation, we will design individual technical solutions that we implement with regard to operational requirements of the powered technology. Providing the delivery of all components and commissioning of the equipment is a matter of course.
We implement:
slip ring assemblies for rotating machine technologies
conductor rails
cable festoon systems
motor driven reels